"As research by the Harvard Business Review shows 40-60% of management hires fail within 18 months"Quoted Companies Alliance. (2017, May 24). With up to 60% of management appointments failing within 18 months,
the Quoted Companies Alliance launches an initiative to help Boards anticipate, manage and mitigate these
risks [Press release]. Retrieved from: QCA-and-Norman-Broadbent-Media-Release

In text: (Quoted Companies Alliance, 2017)
Effective leadership begins at the top.
Leading with your employees as the number 1 priority will lead to the ultimate success of both the business, and your clients.
Going the extra mile? Only if your employees have a reason to do so!
Employee Engagement
Improving Company Culture
People-First Management
Attracting Talent
Retaining Talent
These are all related and are directly connected to your business.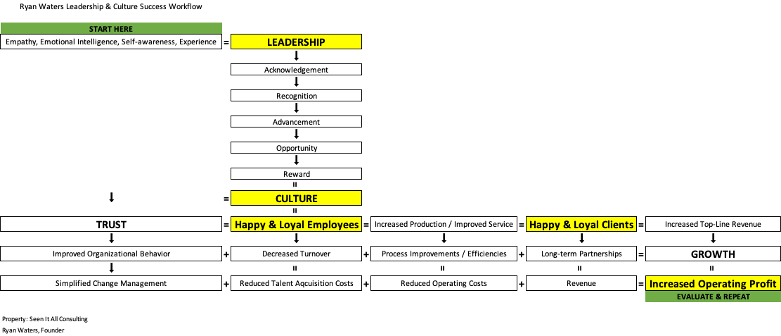 If you do not pay special attention to each and every one of them, you are ignoring the most important aspects of your business.
At Seen It All, I can help you achieve your goals through effective LEADERSHIP!

How can I serve you?

Reach out today for a FREE LISTEN and LEARN session:
Ryan Waters
904-669-8697
ryanwaters@seenitallconsulting.com
(Ryan Waters LinkedIn Profile)